17 octobre 2007
3
17
/

10
/

octobre
/

2007
20:26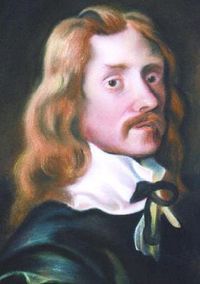 Saint Richard Gwyn ( or White in the angicized version of his name ) was born in Montgomeryshire, Wales, in 1537. He studied at St. John's College, Cambridge, and took lessons from George Bulloch, a Catholic master. But, just after two years, the beginning of the reign of Elizabeth I forced him to end his studies...No Catholic could become a teacher.
So he continued his studies on his own, in Wales. He married and had three children surviving from six. He was obliged by the local bishop to accept the Anglican Faith and to reject the Old Catholic Faith. It seems that he pretended to do so, in order to run schools. But in fact, after a short time, he declared himself a Catholic, true and faithful...So he teached and often moved to avoid punishments and fines ( not to attend Anglican services ).
He was finally arrested in 1579, because a vicar ( an ex-Catholic ), as a new Judas, revealed that he had refused to confirm into the new faith...Many former Catholic priests and bishops have thus conduct people to martyrdom, at this time...They are not the last ones !
Richard escaped, and remained a fugitive for a year and a half, when he was again arrested. He spent four years in prison.
One of the clerks, who was due to read the indictment, suddenly lost his vision, but the judges declared that anyone who would report this incident should be punished, as they feared reactions from clandestine Catholics.
Saint Richard was hanged and disembollewed on October 15, 1584.
His last words, in Welsh, were " Jesus, have mercy on me ! "
His relics are to be found in Our Lady of Sorrows' Cathedral, in Wrexham ( Wales ).
He was canonized by Pope Paul VI in 1970. His feast day is on October, 17th.