20 septembre 2007
4
20
/

09
/

septembre
/

2007
19:05
Blessed Thomas Johnson ( died September 20, 1537 ) was a Carthusian monk, who was left to starve in Newgate gaol, because he would not sign the Oath of Supremacy.
On May 18, 1537, the twenty choir monks and eighteen brothers remaining in the London Charterhouse were required to take the Oath of Supremacy. Of these choir monks, Thomas Johnson, Richard Bere ( ex-Abbot of Glastonbury 1493-1525 ) , an ex-Cambridge fellow : Thomas Green ( the three monks were priests ) and John Davy ( deacon ) refused ; and of the brothers, Robert Salt, William Greenwood, Thomas Redyng, Thomas Scryven, Walter Pearson and William Horne.
On 29 May, all were sent to Newgate, where they were chained standing, and with their hands tied behind them to posts in the prison, and so left to die of starvation.
Margaret Clement - who had been brought up in the household of saint Thomas More - bribed the gaolers, and brought him and the other Carthusians some food by entering in disguise, but on discovery this was ended.
Thomas Johnson took the longest to die of starvation, possibly because food had been allowed for him in hopes he would ultimately be executed, instead of starved to death. Another monk, named Horne, survived and was not executed untill August 4, 1540. He was hanged, disembollewed and quartered at Tyburn.
Thomas Johnson and the other Carthusian martyrs were beatified by Pope Leo XIII, in 1886.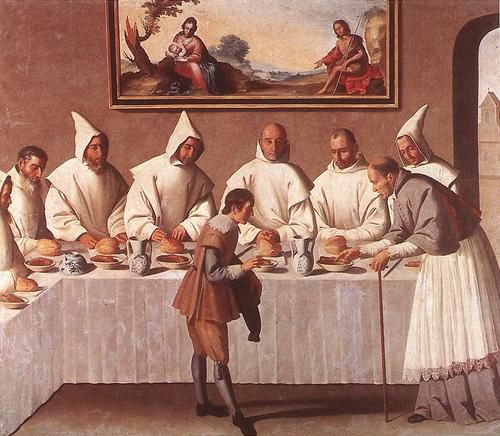 Illustration : saint Hugues de Grenoble, en visite chez les Chartreux, tableau de Zurbaran