12 juillet 2007
4
12
/

07
/

juillet
/

2007
21:12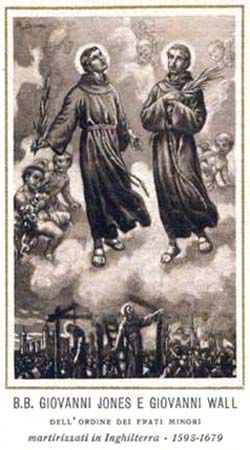 Saint John ( Jean in French, Giovanni in Italian ) Jones was a priest, from a good Welsh family who has remained faithful to the Roman Catholic Church. He was born at Clynnog Fawr ( Wales ), executed 12 July 1598. He is one of the Forty Martyrs of England and Wales.
He entered the Observant Franciscan convent at Greenwich. At its dissolution in 1559, he escaped to France. He took his vows at Pontoise.
After many years, he journeyed to Rome, where he stayed at the Ara Caeli convent. There he entered a stricter branch of the Friars Minors, and begged to be sent back in England. His superiors allowed him to go. He knew that this mission was often equivalent to death...He received a special blessing by Pope Clement VIII.
He reached London during the winter 1592, and worked in different parts of the Kingdom, always hidding and celebrating masses in secret. He was elected Provincial by his English Franciscan brothers.
In 1596 the sadistic " priests catcher " Topcliffe made him arrested, and cruelly tortured and scourged him.
Saint John Jones was then imprisoned for two years. He met in prison John Rigby who was also to be one of the Forty Martyrs. He was convicted of high treason, and sentenced to being hanged, drawn and quartered...
His remains were eventually removed by some young Catholic gentlemen, one of whom suffered a long imprisonment for this offence. One of his relics has been venerated since his death in Pontoise, where he was professed.